Silicon Valley Innovation Institute Event, January 4, 2012: How to Design an Eco-City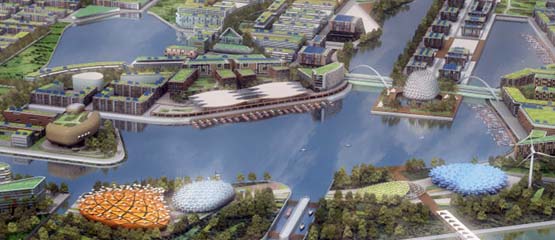 While U.S. legislators are busy arguing about whether or not the EPA (Environmental Protection Agency) has the Constitutional right to regulate air pollution, a massive ecological design experiment is underway across the Pacific. For China, the world's most highly populated country and heavily industrialized economy, the stakes are high to develop and implement an integrated sustainability framework for their cities.
Dr. James Caldwell, guest speaker for this event, has spent the past year consulting to the sustainability planners of the city of Nansha, China, on exactly this topic. At this SVII dinner, he'll share the story of working with the urban planners of Nansha to develop a Green Specification System for the city.
Dr. Caldwell will compare Nansha with several other eco-city developments in China where he has worked with planners and reveal the insights gained from co-organizing and co-hosting a Chinese Mayoral Delegation that came to the Bay Area to compare Eco-City development efforts here with their own in China.
If you are based in the San Francisco Bay Area, or if you are visiting, come join us at this SVII dinner event and expand your innovation world view!
This event is a collaboration between Sustainovation and Silicon Valley Innovation Institute (SVII).
Program Date and Time:
Wednesday, January 4, 2012, from 6:00 to 9:00 p.m. (PST)
Schedule:
6:00 PM (PST) – Doors Open (Networking)
6:45 PM – Dinner is Served
7:15 PM – Program Begins
9:00 PM – Wrap-up
Location:
Bay Cafe, Palo Alto Golf Course
1875 Embarcadero Road
Palo Alto, California 94303
For directions, please visit the SVII web site.
Thank you for sharing this event with a friend!
Recaps of past Silicon Valley Innovation Institute events are archived here, with video clips and photos. Come check them out!
Help Us Shape SVII's 2012 Program!
As we work on planning content for our 2012 monthly meetings, we would love to hear your input! If you have thoughts about speakers, topics, format, or anything else related to meeting content, email us at friends@svii.org.
Connect with the Silicon Valley Innovation Institute Community…
You can now follow SVII on Twitter @SVIISociety
Join the new SVII Facebook group and the LinkedIn group.
Stay in Touch…
For more information, and to join the e-list, email friends@svii.org. Plan to join the SVII Innovation Society each "first Wednesday" of the month.
Keep checking here for program updates, archives and summaries of past meetings. Even if you're not based in the San Francisco Bay Area, you can receive SVII e-letters and keep up with past program discussions.
SVII is a 501(c)3 non-profit educational organization.
Cathryn Hrudicka, Founder, CEO and Chief Imagination Officer of Creative Sage™, is a member of SVII.
In the future, please also visit the SVII web site for event information and updates.
Return to the Creative Sage Home Page
This entry was written by
admin
, posted on December 30, 2011 at 11:12 am, filed under
Cleantech
,
Cleantech Innovation
,
Collaboration
,
Community
,
Creativity
,
Design Innovation
,
Design Thinking
,
Disability Access
,
Ecological Innovation
,
Energy
,
Future Trends
,
Global Trends
,
Green Building Innovation
,
Green Innovation
,
Innovation
,
Politics
,
Renewable Energy Technology
,
Silicon Valley
,
Silicon Valley Innovation Institute
,
Social Enterprise
,
Social Innovation
,
Sustainability
,
Sustainable Communities
,
Sustainable Facilities Innovation
,
SVII
,
Urban Planning
,
Visual Thinking
and tagged
China
,
Dr. James Caldwell
,
Eco-Cities
,
Eco-City
,
Green Specification System
,
Nansha
,
Silicon Valley Innovation Institute
,
SVII
. Bookmark the
permalink
. Follow any comments here with the
RSS feed for this post
.
Post a comment
or leave a trackback:
Trackback URL
.