Images Speak — The Leverage of Media: Making a Connection with Those Who Count Through Emotional Relevance, at SVII, September 5th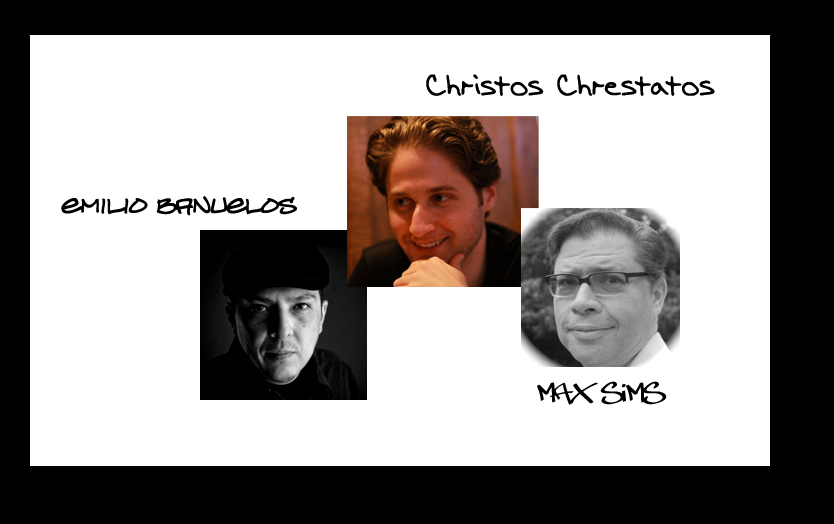 COMING UP September 5th: IMAGES SPEAK – The LEVERAGE of MEDIA
(Making a Connection with Those Who Count Through Emotional Relevance)
Time: 7PM
Location: The Angelica's, 863 Main St., Redwood City, CA 94063
Tickets: $15 (Early Bird – Ends 8/28), $20 (Pre-Registration), $25 (At the Door)

- Get an inside glimpse at the speakers' broad range of personal experiences that has shaped their use of imagery to evoke emotion through different mediums.
- Be inspired by each speaker's unique thought and creative processes.
- Learn how to use the power of personal emotion to accomplish YOUR goals, to make your messages more significant and poignant, and to convey the hidden meaning that crosses cultural and language barriers.
At the conclusion of the speakers' presentations, our founder and chairman, Howard Lieberman, will moderate a panel discussion – where YOU can pick the brains of Emilio, Christos, and Max for what promises to be some of the most inspiring and thought provoking conversations centered around this theme. Prepare to be inspired as we share great ideas, great food, and great networking with a group of like-minded innovators like yourself!
SCHEDULE
6:30 – Registration (Networking)
7:00 – Dinner and Entertainment (Scot Sier)
8:00 — Main Program
9:00 – Speakers Panel Q&A
9:30 – Wrap-Up (Networking till close at 10:30)


==================================================


FEATURING:


Emilio Bañuelos
Photography Instructor (Academy of Art University)
Emilio Bañuelos has worked as an editorial photographer and consultant for newspapers in Mexico, Panama and the US. His documentary work earned him fellowships from the Poynter Institute, the Marty Forscher Fellowship for Humanistic Photography and an award from EnFoco Inc. In the San Francisco bay area, Emilio teaches documentary photography for the Academy of Art University, and has conducted workshops for the University of California Santa Cruz-Extension and the University of Coahuila and Black Boots Ink.
Christos Chrestatos
Director / Creative Director (Thoughtpusher)
Christos Chrestatos is an experienced filmmaker and director, and also the creative director for Thoughtpusher, a New York City based creative shop specializing in commercials, music videos, fashion films, and "hybrid advertising". His work has been featured in the New Museum of Contemporary Art in Manhattan, XLR8R (leading voice in independent electronic music for the US and many top international markets), RES Magazine (bi-monthly publication chronicling the best in cutting edge film, music, art, design and culture), as well as TV channels in countries like Japan, Canada, and Germany. Christos draws his inspiration from a curiosity towards the human condition, his love for mythology, and an appetite to create meaning; He believes strongly in the universal language of imagery (and its ability to resonate with individuals), as well as the power of the narrative in bridging the gaps of global culture.
Max Sims
Principal (Technolution)
Max Sims started his career as a car designer at Opel and Renault then transitioning to the Visual FX industry. In 1989 he started working for Alias Research . Max has consulted to many of the leading manufacturers, design consultancies and VFX/animation houses such as Alessi, ILM, Pixar, Motorola, Sun, and Apple IDG. He is the lead author of Inside Maya 5 and has been teaching Maya and Alias Studio at the Academy of Art since 1994 and Cogswell Polytechnical College since 2000. He is an advisory board member to Multiverse networks, Caustic Graphics and the Silicon Valley Innovation Institute.

This content is credited courtesy of the Silicon Valley Innovation Institute. For more information and updates, please visit the SVII web site.
Thank you for sharing news about this event with a friend or colleague!
Recaps of past Silicon Valley Innovation Institute events are archived here, with video clips and photos. Come check them out!
Help Us Shape SVII's 2013-2014 Program!
As we work on planning content for our upcoming monthly meetings, we would love to hear your input! If you have thoughts about speakers, topics, format, or anything else related to meeting content, email us at friends@svii.org.
Connect with the Silicon Valley Innovation Institute Community…
Follow SVII on Twitter @SVIISociety
Join the SVII community's LinkedIn group.
Stay in Touch…
To join the SVII e-list, email friends@svii.org.
Keep checking here for upcoming events and program information. Even if you're not based in the San Francisco Bay Area, you can receive SVII e-letters and keep up with program discussions.
Cathryn Hrudicka, Founder, CEO and Chief Imagination Officer of Creative Sage™, is a member of the Silicon Valley Innovation Institute.
Silicon Valley Innovation Institute (SVII) is a 501c(3) educational organization, located at 1611 Borel Pl., San Mateo, CA, 94402
Phone: 650-561-9000.
***
We greatly appreciate the support of our readers in the Creative Sage™ Community. Your questions, comments and suggestions are always welcome!
Return to the Creative Sage Home Page
This entry was written by
admin
, posted on August 27, 2012 at 12:47 pm, filed under
Computers and Art
,
Imagery
,
Influence
,
Innovation
,
Innovation Video
,
Leverage
,
Media
,
Silicon Valley Innovation Institute
,
Social Media
,
Storytelling in Business Innovation
,
SVII
,
Visual Thinking
,
Visualization
and tagged
Academy of Art
,
Academy of Art University
,
Angelica's Bell Theater & Bistro
,
Christos Chrestatos
,
Emilio Bañuelos
,
Howard Lieberman
,
Max Sims
,
Scot Sier
,
Silicon Valley Innovation Institute
,
SVII
,
Technolution
,
Thoughtpusher
. Bookmark the
permalink
. Follow any comments here with the
RSS feed for this post
.
Post a comment
or leave a trackback:
Trackback URL
.