Silicon Valley Innovation Institute 7th Anniversary Party, July 18, 2012 — the Spotlight's on You!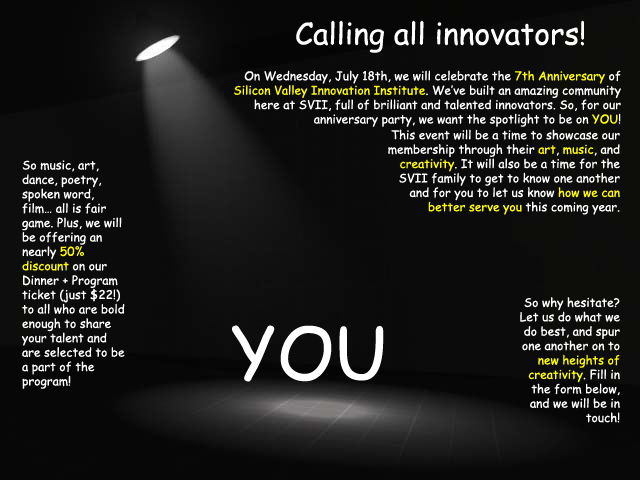 SIGN UP FORM (Click here to get on board!)

To All Innovators:
Okay… so how many of you have heard recently that "You are being too focused!" or, "Don't you think it is time to take some risks and broaden your emotional expression?"
Likely not yesterday? Or at the very least… not from your boss?
But consider this… Would you or wouldn't you rather prefer the smorgasbord approach to life? (And by smorgasbord, we mean a feast… A royal-caliber buffet where there are many, MANY mouth-watering courses to sample, including just the right number that you have never yet heard of or tried?)
So let's say you live in the Silicon Valley, and you are a techie. But somewhere along the way, you had some creative sparks…of the extraterrestrial kind: A crazy bug to write a short story, a song, a poem; an impulse to shoot a movie, a photo, a documentary; or an urge to design a house, choreograph a dance, or redo the Burger King logo in three different flavors (Sorry, but their way, right away just ain't yours…)
Well, here is your chance to show off your alien baby! …At the SVII 7th Anniversary Celebration happening on Wednesday, July 18th at the Angelica's Bell Theatre & Bistro in Redwood City — the only place around where YOUR brain child can be brought in front of supportive friends and family in a magnificently soulful performance space, solidly entrenched in the midst of three performance stages AND a fortified beer and wine list!
Before you let any doubt enter your mind as to whether this is for you, let me just remind you that innovators rarely constrain themselves to being creative in only one form. In fact, the SVII June event was a terrific example of this: While nominally, the topic was "How is Technology Changing Music?", we thoroughly indulged ourselves with a couple of impromptu performances, one by Scot Sier (whose upcoming new album is "Heads or Tales") on an instrument designed by Rick Turner (design guru for everything musical), and the other by Andy Markham, the founder of the band 'The Cat Mary', and some pointed questions for Rob Hamilton whose biz-card reads Content Czar for Smule (want to turn your cell phone into the most portable of instruments?) and Eli Turner, Rick's seventeen year old son who is currently designing an eye-popping electric banjo for Bela Fleck using solid modeling.
On top of that, those in attendance and the SVII team also made quite an impression. There were people who were instrumental in guiding Apple towards their dominant role in the music world today, and people who worked on X Prizes, and lots of people (the majority I think) who started companies — self taught, academically trained, and everything in between. (Oh, did I mention the awesome Bolero dance piece by Jessie Chen, our new executive director, and her dance partner Roland van der Veen? Or the prototype of a guitar with a built-in amp that also doubled as a music player, demo'ed by one of our attendees?) In fact, the only thing everyone really had in common is that they are super creative, very intelligent (not the same thing) and also really nice (not competing with each other, but all in it together, and enjoying themselves, hanging out before and after the main program).
So if this sounds like fun to you, and you are up for a "Potent Interactive Dinnerlogue", then come join in. But beware! If you are craving a linear, hierarchical, traditional Powerpoint presentation this may not be your cup of tea; This is NOT a place where you must sit with your hands folded politely in your lap while a formal presentation gets all the action… However, if you want to take the leap and dive in to be part of the smorgasbord, then here is your chance. (Or just come, lay back, and watch the fun…you will NOT be bored!)
SIGN UP FORM (Click here to get on board!)


===================================================
SCHEDULE:
6:30 – Doors Open (Networking)
7:15 – Dinner Served
7:30 – Smorgasbord Begins!
9:30 – Wrap-Up (Networking till close at 10:30)
VENUE:
Angelica's Bell Theatre & Bistro
863 Main St
Redwood City, CA 94063
* Read about our slice of Europe in this recent New York Times article about Redwood City.

For more information and updates, please visit the Silicon Valley Innovation Institute web site.
Thank you for sharing news about this event with a friend or colleague!
Recaps of past Silicon Valley Innovation Institute events are archived here, with video clips and photos. Come check them out!
Help Us Shape SVII's 2013-2014 Program!
As we work on planning content for our upcoming monthly meetings, we would love to hear your input! If you have thoughts about speakers, topics, format, or anything else related to meeting content, email us at friends@svii.org.
Connect with the Silicon Valley Innovation Institute Community…
Follow SVII on Twitter @SVIISociety
Join the SVII Facebook group and the LinkedIn group.
Stay in Touch…
For more information, and to join the e-list, email friends@svii.org. Plan to join the SVII Innovation Society each "first Wednesday" of the month.
Keep checking here for upcoming events and program information. Even if you're not based in the San Francisco Bay Area, you can receive SVII e-letters and keep up with program discussions.
Cathryn Hrudicka, Founder, CEO and Chief Imagination Officer of Creative Sage™, is a member of the Silicon Valley Innovation Institute.
Silicon Valley Innovation Institute (SVII) is a 501c(3) educational organization, located at 1611 Borel Pl., San Mateo, CA, 94402
Phone: 650-561-9000.
***
Although we all enjoyed our past meeting location, for accessibility reasons, we're so glad to see that SVII has changed its Dinnerlogue meeting place to a location that is more accessible by public transit, most notably CalTrain, and that it is a bit closer to San Francisco, the East Bay, and North Bay, for innovators who live all over the Bay Area. For our friends who are visiting, if you are not a member of SVII, you are invited to attend anyway!
Unfortunately, I'll be missing this wonderful 7th Anniversary Party with SVII — but for a good reason; at Creative Sage™, we'll be taking a vacation combined with a company retreat in beautiful Mendocino County in Northern California, and in the San Francisco Bay Area, from July 14-30. We hope you'll stick around, and we'll be adding a new post in early August.
Although we've been posting advance announcements about Silicon Valley Innovation Institute programs on this blog for the past few years, we originally started doing so because at that time, SVII did not publish its own blog, and the organization was just beginning to use social networks to further its community discussions. Now, however, SVII has its own blog and a strong social presence, so we will be changing our approach to publishing the organization's program announcements here on this blog. Stay tuned…we'll announce any significant editorial or policy changes in August or September, 2012.
We greatly appreciate the support of our readers in the Creative Sage™ Community. Your questions, comments and suggestions are always welcome!
Return to the Creative Sage Home Page
This entry was written by
admin
, posted on July 12, 2012 at 1:07 pm, filed under
Artistic Creativity
,
Community
,
Creativity
,
Creativity and Renewal
,
Creativity and the Artist
,
Dramatic Improv
,
Improvisation
,
Innovation
,
Music Innovation
,
Right Brain
,
Risk-taking
,
Silicon Valley
,
Silicon Valley Innovation Institute
,
Storytelling in Business Innovation
,
SVII
,
Theatre
,
Whole Brain
,
workplace creativity
and tagged
Angelica's
,
Angelica's Bell Theater & Bistro
,
Artists
,
Arts
,
Cathryn Hrudicka
,
Creative Sage
,
Creative Sage Arts
,
CreativeSage
,
Silicon Valley
,
Silicon Valley Innovation Institute
,
Silicon Valley Innovation Institute 7th Anniversary
. Bookmark the
permalink
. Follow any comments here with the
RSS feed for this post
.
Post a comment
or leave a trackback:
Trackback URL
.