New SVII Venue & Date: June 20th Silicon Valley Dinnerlogue: Impacts of Technology on Music
*New Venue: Angelica's Bell Theater & Bistro, Redwood City, CA*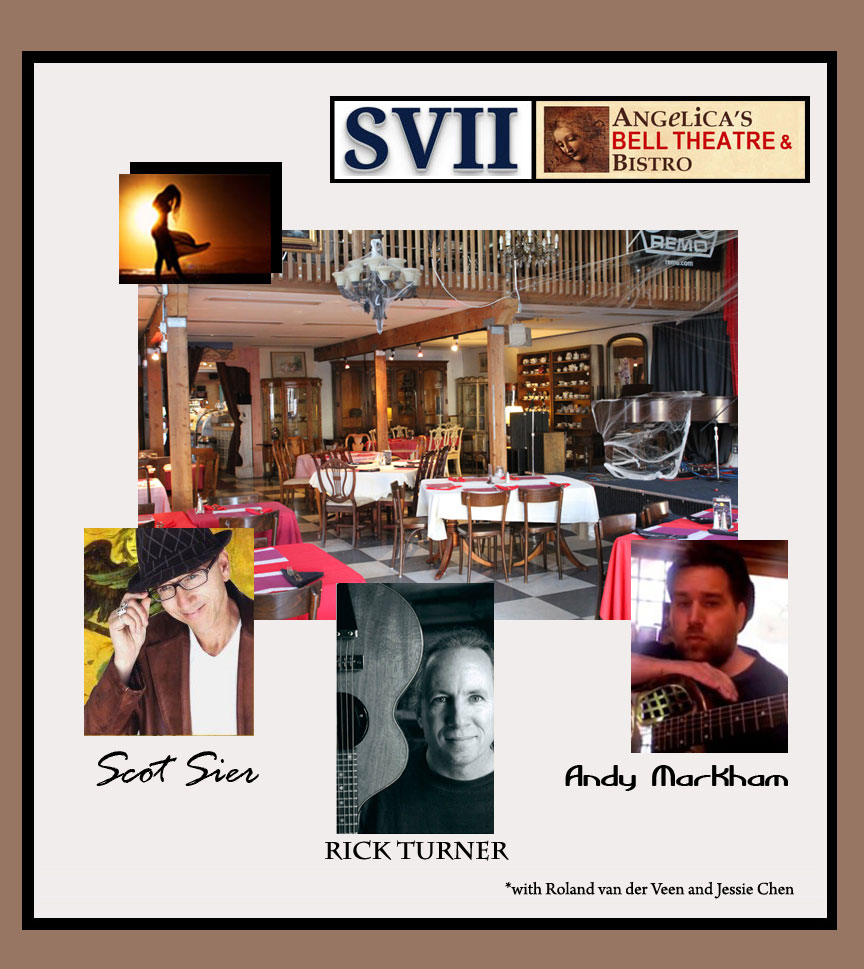 century ago, technology brought recorded music to everyone. Since then, it has put your record collection in your pocket and a recording studio in your home. The internet changes the way music is marketed and disrupts old business models.
But in the next decade, there is a still bigger change coming. The confluence of cloud services and mobile phones and other technologies are enabling new ways to create music, share it, learn and practice, rehearse, compose, collaborate and perform.
Join us for a fascinating discussion of the future of music and the direction of technology for musical expression!


Scot Sier: Along with founding Budda Amplification, a global leader in musical instrument amplification, Scot Sier is a songwriter, performer, producer, music publisher and new digital media strategist. Working with the latest music recording and social sharing tools, Scot is carving a niche in the music community. He is a featured artist on Soundcloud.com and regularly performs in and around the Bay area. San Francisco based Scot introduces us to his up coming new album, "Heads or Tales" and is recognized as an innovative music maker and a unique, one of a kind style-forging pioneer.
Rick Turner: Rick Turner is a luthier, engineer and inventor who has designed, built and repaired instruments for some of the biggest names in music. He is co-founder of Alembic, Inc., where his work included the design of custom speaker cabinets to eliminate standing waves in the Grateful Dead's famous "Wall of Sound" PA system. Today he designs and builds guitars and basses at his own company, Renaissance Guitars. Rick's instruments have been exhibits at the Smithsonian, The Museum of Making Music, and the Museum of Arts and Design.
Andy Markham: Andrew Markham is a Mobile Product Manager at Mindjet, and founder of the band "The Cat Mary", whose style is best known as an "alternative country rock with a literary touch." His fascinating career spans the spectrum from instructor for English literature at John Hopkins University, musician (guitar, mandolin, banjo, vocals) and lyricist, to expert of digital product development.
* With Bolero dance showcase by Roland van der Veen and Jessie Chen

Schedule
6:30 – Doors Open (Networking)
7:15 – Dinner Served
7:30 – SVII Business
7:45 – Program Begins
9:30 – Wrap-Up (Networking till close at 10:30)
Venue
Angelica's Bell Theater & Bistro
863 Main St
Redwood City, CA 94063
* Map *
* Read about our slice of Europe in this recent New York Times article about Redwood City.

For more information and updates, please visit the Silicon Valley Innovation Institute web site.
Thank you for sharing news about this event with a friend or colleague!
Recaps of past Silicon Valley Innovation Institute events are archived here, with video clips and photos. Come check them out!
Help Us Shape SVII's 2012-2013 Program!
As we work on planning content for our upcoming monthly meetings, we would love to hear your input! If you have thoughts about speakers, topics, format, or anything else related to meeting content, email us at friends@svii.org.
Connect with the Silicon Valley Innovation Institute Community…
Follow SVII on Twitter @SVIISociety
Join the SVII Facebook group and the LinkedIn group.
Stay in Touch…
For more information, and to join the e-list, email friends@svii.org. Plan to join the SVII Innovation Society each "first Wednesday" of the month.
Keep checking here for upcoming events and program information. Even if you're not based in the San Francisco Bay Area, you can receive SVII e-letters and keep up with program discussions.
Cathryn Hrudicka, Founder, CEO and Chief Imagination Officer of Creative Sage™, is a member of the Silicon Valley Innovation Institute.
Silicon Valley Innovation Institute (SVII) is a 501c(3) educational organization, located at 1611 Borel Pl., San Mateo, CA, 94402
Phone: 650-561-9000.
***
Although we all enjoyed our past meeting location, for accessibility reasons, we're so glad to see that SVII has changed its Dinnerlogue meeting place to a location that is more accessible by public transit, most notably CalTrain, and that it is a bit closer to San Francisco, the East Bay, and North Bay, for innovators who live all over the Bay Area. For our friends who are visiting, if you are not a member of SVII, you are invited to attend anyway!
Please note: Although we've been posting advance announcements about Silicon Valley Innovation Institute programs on this blog for the past few years, we originally started doing so because at that time, SVII did not publish its own blog, and the organization was just beginning to use social networks to further its community discussions. Now, however, SVII has its own blog and a strong social presence, so we may change our approach to publishing the organization's program announcements here on this blog. Stay tuned…we'll announce any significant editorial or policy changes well in advance.
We greatly appreciate the support of our readers in the Creative Sage™ Community. Your questions, comments and suggestions are always welcome!
Return to the Creative Sage Home Page
This entry was written by
admin
, posted on June 5, 2012 at 6:23 pm, filed under
Artistic Creativity
,
Business Innovation
,
Collaboration
,
Collaborative Innovation
,
Computers and Art
,
Corporate Creativity
,
Creativity
,
Creativity and the Artist
,
Design Innovation
,
Design Thinking
,
Developers Communities
,
Innovation
,
Music Innovation
,
Silicon Valley
,
Silicon Valley Innovation Institute
,
SVII
,
The Cloud
and tagged
"The Cat Mary"
,
Alembic
,
Andy Markham
,
Angelica's
,
Angelica's Bell Theater & Bistro
,
Bolero
,
Bolero Dance Showcase
,
Buddha Amplification
,
Creativity
,
dance
,
Dinnerlogue
,
Jessie Chen
,
lute
,
luthier
,
Mindjet
,
New York Times
,
Redwood City
,
Renaissance Guitars
,
Rick Turner
,
Roland van der Veen
,
San Francisco Bay Area
,
Scot Sier
,
Silicon Valley
,
Silicon Valley Innovation
,
Silicon Valley Innovation Institute
,
SoundCloud
,
SVII
. Bookmark the
permalink
. Follow any comments here with the
RSS feed for this post
.
Post a comment
or leave a trackback:
Trackback URL
.